Citadele is now offering a new payment acceptance solution to Baltic merchants and service providers: Citadele Phone POS. The new solution is an app for Android devices that enables entrepreneurs to accept contactless payments using their smartphone or tablet.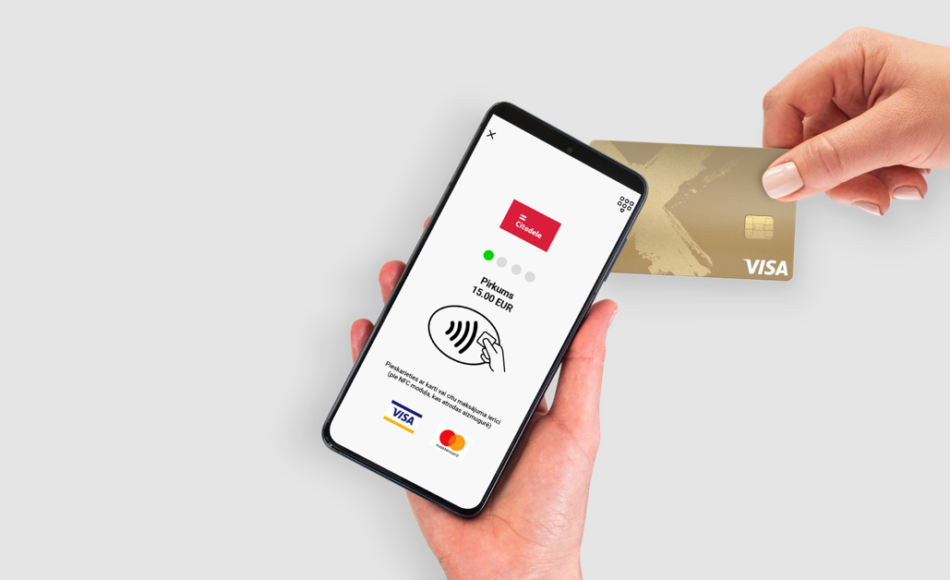 The entire registration process — downloading the app and signing the contract — can be conducted remotely. The Citadele Phone POS was developed in partnership with the Visa Tap to Phone program and IBA Group, an IT service provider. The Citadele Phone POS does not require a separate device to receive payments and is the first solution of its kind introduced by the bank in the Baltics to be Visa & Mastercard certified.
The Citadele Phone POS does not have a rental or subscription fee, making it a useful choice for merchant and service providers that need mobility and only periodic service. Entrepreneurs can simply download the app from the Google Play store and sign a contract with an electronic signature; the Citadele Phone POS is then ready to use.
"If the technological revolution of the past few years was to become a bank customer with a selfie or pay using a phone, then the Citadele Phone POS is the next innovation. This helps us to showcase the rapid development of Latvia's financial technologies. The Citadele Phone POS will be a great and useful innovation for entrepreneurs, but customers will also be surprised, as this is the first solution of its kind introduced by the bank in the Baltics. Despite its newness, we are confident that a POS terminal on a smartphone will soon become commonplace, alongside contactless payment cards and payments by phone,"

said Citadele Board Member Vladislavs Mironovs.

"We are truly excited to be part of continuous innovation and digital journey of Citadele bank focusing on seamless customer experience for both cardholders and merchants. Expanding acceptance by turning smartphones into POS devices is essential for small and medium entrepreneurs. It offers sellers a simple way to accept cards and better way to pay and be paid. Tap to Phone (Phone POS) is not only a technology play, but also a business decision play including instant onboarding and mobility. We are happy to see Citadele bank as a front runner being the first launching Tap-to phone solution for Baltic sellers and cardholders",

said Country manager Sweden, Finland and Baltics at VISA Europe, Riikka Salminen.
The app's development paid special attention to security, ensuring that the buyer's card information or entered PIN code is never stored on the seller's phone. The Citadele Phone POS app, like the Citadele Bank app, does not allow screen recording, screenshots, or any other suspicious activity. The app cannot be installed on devices that have illegal applications installed to retrieve data. To develop the app, Citadele collaborated with IBA Group, a developer of IT solutions. The Citadele Phone POS accepts Visa and Mastercard payment cards, and transaction processing is carried out by Worldline.
"Using a smartphone as a terminal opens up new opportunities for Citadele Bank customers. Now they need only a smartphone with an installed application to accept payments. I hope that the Baltic States residents will highly appreciate this new payment solution which can be used almost immediately",

said Vadim Smotryaev, IBA Group Technical Director.

"Without a shadow a doubt I can assure that the new Citadele POS Phone solution is a unique innovation not only within Baltic countries, but as well at European level. The solution for the first time will be available to more than 200 000 small size individual entrepreneurs in all 3 Baltic countries for most of which the permanent card acceptance unit was not a viable solution until now. The security of the solution will be provided not only at the application level, but also by dedicated online risk management solution,"

says Zanda Brīvule-Jansone Head of Nordic and Baltic region at Worldline Global.
The Citadele Phone POS terminal works only on Android devices — phones and tablets with an NFC reader and Version 8 of the operating system or above.
More information is available at Citadele web site: https://www.citadele.lv/en/business/phonepos/.
About Citadele Bank
Citadele's mission is to modernise the banking sector and offer more opportunities to clients and businesses throughout the Baltics.
Alongside classic banking services, Citadele offers its clients a range of services based on next-generation financial technology, including its modern app, contactless payments and instant payments, and finally, being the first in the Baltics to introduce opening an account with a selfie, payment rings and payments to mobile numbers.
Citadele is the second largest bank in Latvia by assets. The Citadele group is managed from Latvia. Its subsidiaries and branches operate in Latvia, Lithuania and Estonia.
More information:
Kristīne Mennika
Head of Corporate Communications
AS "Citadele banka"
Tel. 26528533
Email: Kristine.Mennika@citadele.lv
www.citadele.lv