The workshop will take place at Riga Business School, Alumni Auditorium, Skolas street 11, Riga on August 23 from 9:00 to 12:30.
Finance Latvia Association in cooperation with UK Finance invites you to register for the workshop "Policies and Tools for Embedding Culture of Compliance". It will be led by Dr Roger Miles who counsels the Boards of public- and private-sector organisations and teaches behavioural risk at postgraduate level. In commercial practice, he researches and develops tools to improve reporting and prediction of behavioural risk in financial markets. Roger Miles leads UK Finance's Academy for behavioural risk. He is a visiting lecturer at Cambridge Judge Business School (Centre for Compliance and Trust) and UK Defence Academy.
Finance Latvia Association invites executives and managers from financial sector institutions whose responsibilities include design, implementation and oversight and analysis of institutional conduct programmes/behavioural risks, as well our partners from the public sector.
Topic: Understanding human behaviour is integral to the design of effective controls. Financial sector institutions seek new tools and solutions to ascertain and embrace conduct risks, tailor and embed behaviour-savvy policies to control risks.
Goal: To inform and assist financial sector institutions aspiring to design policies and shape practices to mitigate their regulatory and conduct risks. Support embedding sector-wide best practice standards.
Registration and fee
This event is open for registered participants only. Please register and provide billing details by August 9, 2019, at https://ej.uz/workshop23082019
Participation fee is EUR 120 for members of Finance Latvia Association and governmental institutions, EUR 240 for other participants.
Participants will get CAMS credits (number TBC) and a certificate of attendance.
Working language – English.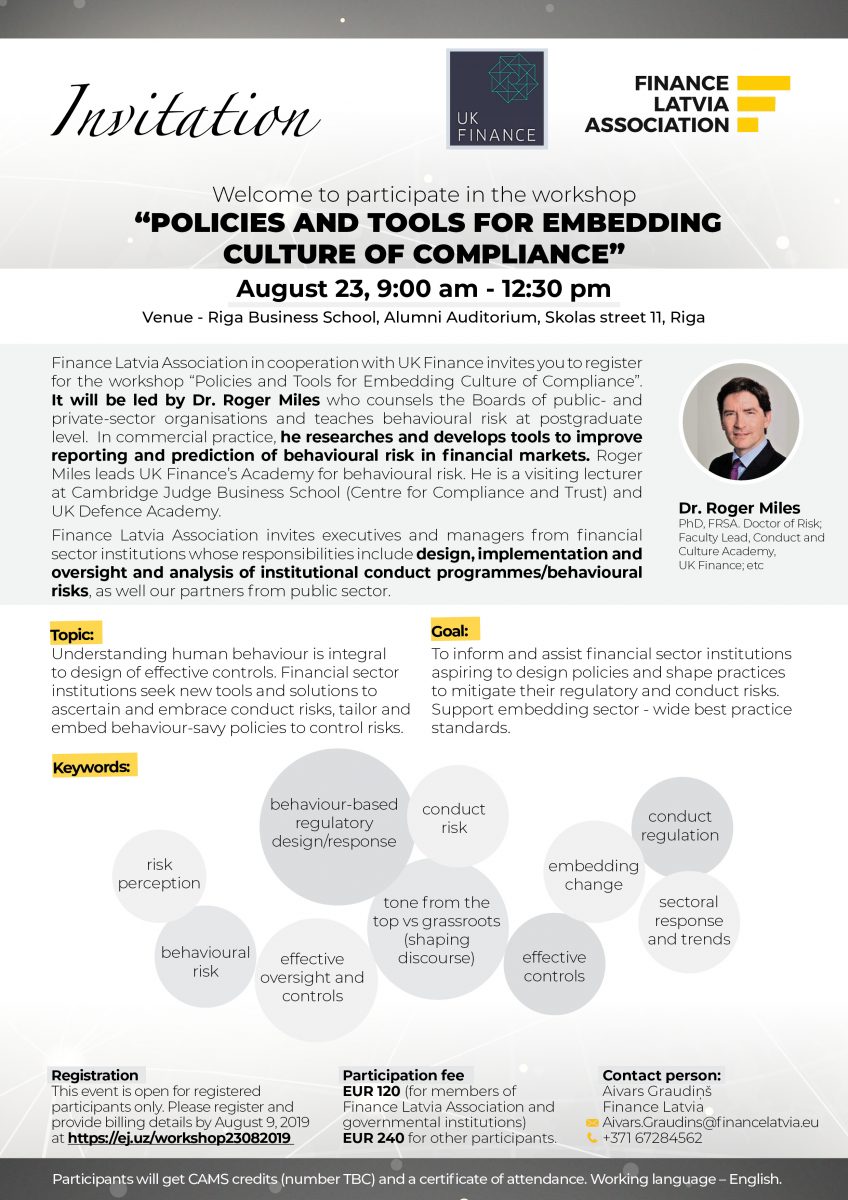 Invitation – Policies and tools for embedding culture of compliance PDF
Contact person: Aivars Graudiņš, Aivars.Graudins@financelatvia.eu, +371 67284562.